Discover how your website is performing
For only £15 +VAT we will generate for you a full website audit and report
Stop guessing about what's wrong with your website and order this comprehensive, jargon-free report instead.
You will find out how your website is performing, how well it's optimised and the strengths and weakness of the site, all designed to help improve your web presence and get those all-important sales or leads.
The review covers the four main areas listed below:
User Experience
Conversion Optimisation
SEO / Online Visibility
Performance & Security
This website report measures everything that matters to the online success of your business. In other words, it's all you need to make more strategic website and digital marketing decisions.
The link to the report will be emailed to you as soon as it's available. You will be able view it on screen and also download it as an easy-to-read PDF.
User Experience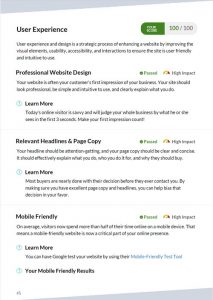 User experience and design is a strategic process of enhancing a website by improving the visual elements, usability, accessibility and interactions to ensure the site is user friendly and intuitive to use.
Conversion Optimisation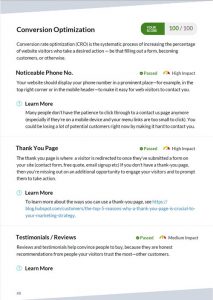 Conversion rate optimization (CRO) is the systematic process of increasing the percentage of website visitors who take a desired action — be that filling out a form, becoming customers or otherwise.
SEO / Online Visibility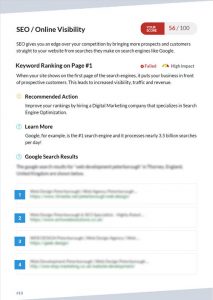 SEO gives you an edge over your competition by bringing more prospects and customers straight to your website from searches they make on search engines like Google.
Performance & Security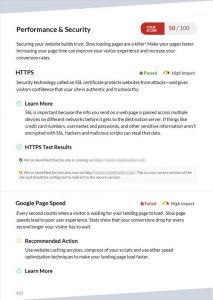 Securing your website builds trust. Slow loading pages are a killer! Make your pages faster. Increasing your page time can improve your visitor experience and increase your conversion rates.