White Labelling Services
Graphic Designers, Agencies and IT support, are you aware that we offer white label WordPress support.
Maintenance Plans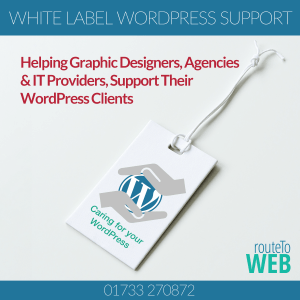 Add an additional revenue stream to your business with our white labelled popular monthly priority WordPress maintenance plans.
These plans enable you to supply your WordPress clients with an assurance that their website is being well maintained and cared for on a monthly basis. Benefitting your client with the confidence that their WordPress install is being inspected properly and updated on a regular basis, ensuring that the latest bug fixes and security patches are up to date. It benefits you too, by leaving the maintenance in our safe hands and letting you get on with what you do best.
Mid-month minor tweaks are also covered, helping with those annoying problems that occur occasionally with a new page or post when the styling won't go as intended or the pesky image refuses to align exactly where it's been told to go on more than one occasion.
With a Level 2 Priority Maintenance Plan and above your client will get a monthly report branded with your logo and corporate colours. This in-depth report helps your client discover things like spelling mistakes, grammar issues, broken links, SEO concerns, mobile display problems and other important disorders that websites develop over a period of time.