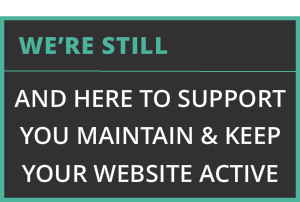 How we can help?
We're still open to help you maintain & keep your website active. Whether it's just helping to post an important notification, something that needs to be done before Easter or your site is facing operational difficulties we can help.
Several of our clients have had us post home page notifications that they are still open for business, although not necessarily in the office or in some instances are closing their operations as it's not something that can be done from home.
Our notification, that you may have seen, tells the site visitor that we're OPEN! And here to help you.
What can we help you with?
Updating the website's content.
Optimisation.